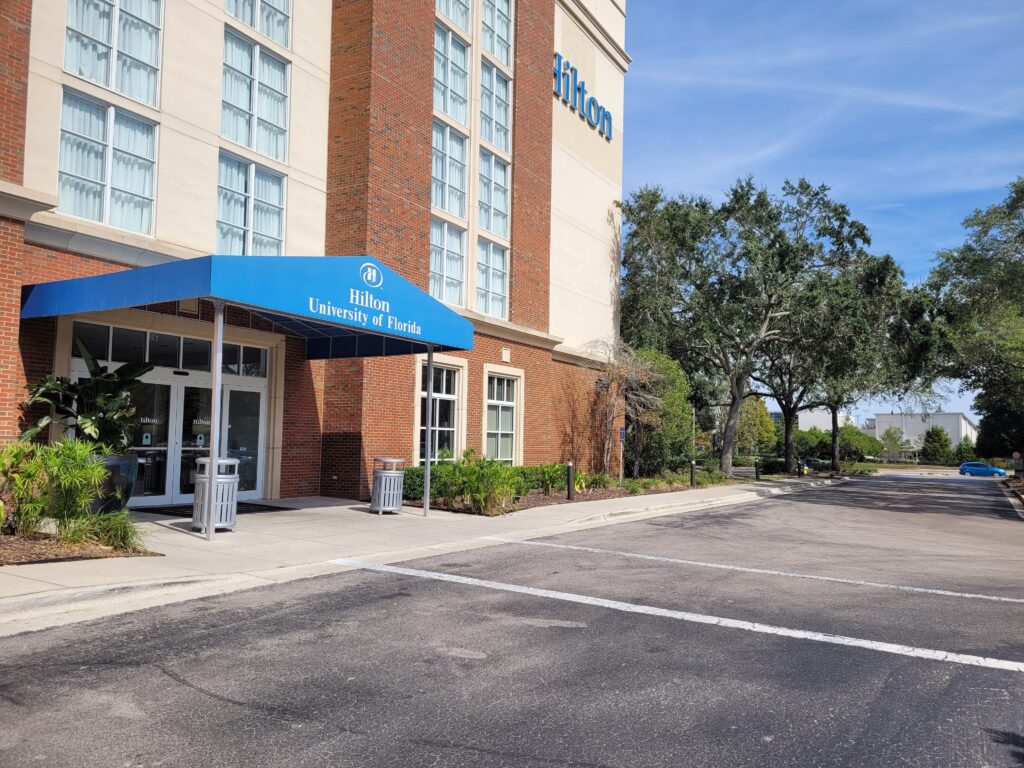 Exhibitor Information for festival authors
Welcome!
Thank you for participating in the 2024 Sunshine State Book Festival. On this page, you will find information about the day-long event on Saturday, January 27, 2024, where you will meet readers and sell and sign your books.
Friday Reception
All authors are invited to attend the Friday night reception on January 26, 2024, from 7:00 to 9:00 p.m. in the Hilton UF Conference Center lobby. Join us to meet and mingle with fellow authors and interested members of the public.
Saturday Festival
Author exhibits will be in the Hilton UF Conference Center main room.
Author check-in begins on Saturday at 8:00 a.m.
Please be checked in by 9:30 a.m.
Festival is open to the public 10:00 a.m. to 5:00 p.m.
Participants should not take down their exhibits before 5:00 p.m.
Exhibit spaces
Each author's exhibit space is 36 × 30 inches (one half of a six-foot-long table). Chairs, tables, and extra-large tablecloths that double as skirting are provided. This will allow authors to hide empty boxes and extra inventory under their tables.
If you have multiple titles, plan ahead by measuring out a 36 × 30 inch area on a table at home to test different display configurations. You can use multi-step racks or small boxes to create vertical tiers.
There is no room to stand easels in front of or behind your table. Please do not bring them. A cloth banner/sign that drapes over the front of your table is permitted so long as it does not encroach on the other author's space.
Wi-Fi
Public Wi-Fi is available throughout the conference center. However, electrical outlets will not be available at your table, so if you're accepting credit cards, etc., charge up those devices ahead of time.
Food
This year, the Sunshine State Book Festival is providing a continental breakfast of pastries and beverages as well as a free lunch for participating authors. Both meals will be served in a private room adjacent to the main book festival exhibition hall. Authors must wear their festival name tags to be served meals.
Rules
At registration, all exhibitors agree to abide by our Terms of Exhibitor Participation.
Prize Drawings
Attendees can win free books that have been donated by authors exhibiting at the festival.
This drawing creates traffic to your tables because visitors have to get at least 10 authors to initial their entry form.
If you would like to donate a book for the drawing, just bring it to table #1 after you check in on Saturday morning.
Books that aren't given away by 5:00 p.m. can be reclaimed by the author.
Check-in procedure
Author check-in begins Saturday, January 27, 2024, at 8:00 a.m. Please be
checked in by 9:30 a.m.
Directions and map
Hilton University of Florida Conference Center is located at 1714 SW 34th Street, Gainesville, Florida, 32607
There are two ways to enter the Hilton property. If you are traveling south on SW 34th Street, the entrance to the conference center parking lot is on your right just past the Hull Road intersection. But northbound drivers should turn left at the traffic light at the intersection of SW 34th St. and Hull Road, and enter the Hilton from Hull Road. Book festival signs next to both entrances will point you toward the conference center doors.
Festival Ambassadors wearing bright yellow vests will be on hand to guide you.
If you wish to unload your books before parking, stop at the conference center doors. Books may be left with a Festival Ambassador in the conference center lobby while you park.
The Festival registrar will be waiting at the conference center entrance to check you in. Once your registration has been confirmed, a Festival Ambassador will show you to your assigned
table space.
#sunshinestatebookfestival